Product Name: Gymini Bouncer

Manufacturer: Tiny Love
Price Range: £££
Gymini Bouncer Instruction Manual
At a glance


The Gymini bouncer is not your ordinary activity bouncer it's actually a whole activity environment centred around your baby!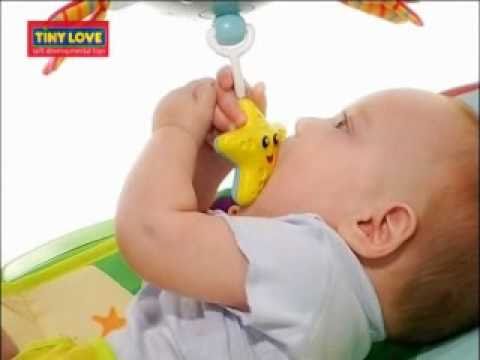 Overview

Tiny love have created the daddy of all activity bouncers. The vibrantly coloured Gymini Bouncer is one of the best activity bouncers on the market and is also reasonably priced. There are three different variants of the Gymini bouncer. The standard version as seen above, The Tiny Princess Gymini Bouncer is the pink offering and thirdly there is the Gymini Bouncer 'Under the Sea' version.

Key Features


What makes this a great activity bouncer is the thoughtful functional design and attention to detail. Whilst the Gymini bouncer may look like a wacky racers car its innovative play arches cleverly allow for complete flexibility in where you position your baby's toys. In order to easily access your little one the bouncer's arches also open outwards which makes your life a lot easier.
The seat itself has a built in vibration unit but the music function is actually in a detachable lights and music toy crab. Again this is well thought out since you can take the little crab with you on a pram or car seat. There are three separate toys included to hang off the arches – a wind chime, a hippo rattle and a leaf shaped teether. Tiny love also offer a wide range of additional toys that can be added to the bouncer or taken along on strollers or car seats.

Comfort
The seat is fairly well padded and has two recline positions which is useful for smaller babies or when your little one wants a nap.
Safety


A standard 3 point safety harness and non slip rubber feet secure the bouncer.
Ease of Cleaning
The seat pad itself is machine washable on a cool setting. The rest of the bouncer can be wiped down with a damp cloth and mild detergent.
Ease of Assembly
The instructions look quite complex but assembly isn't actually that difficult. You will need a Phillips head screwdriver to do this. The steel tubular frame slots together and then the seat cover slips over the constructed frame. The vibration unit takes 1 C type battery and the light up crab takes  3 AAA batteries. Batteries not included.
Age Range and Usage
You can use the Gymini bouncer from birth up to the age of 6 months, which is roughly up to a maximum weight of 9 kg or 20 lbs.  Assuming you buy for a newborn baby getting 6 months usage out of this bouncer is pretty much marked at the average usage in months compared to other bouncers on the market. See Baby Bouncer Comparison Table.


Value for Money

In looking at value for money, consider the price against how long you will get usage out of the bouncer.

At the time of writing the cost of this bouncer coming in at about £49 puts it in the lower end of the mid price range (£££ on the comparison table) which is between £40 and £80's. As indicated on the age range you should get at least 6 months usage out of the product and so, simply put, a cost of £49.90 for 6 months gives you a usage cost per month of £8.32 which is a middling usage cost per month score. 


What's great:
The light & Music crab

Adjustable arches

Configurable toy position
What to watch out for:
Doesn't fold flat

Doesn't feel as sturdy as some other bouncers
Conclusion


Tiny Love have outdone themselves with this well thought out cleverly designed activity bouncer. It is flexible and functional. Overall a
lovely activity bouncer with great functional design and certainly worth considering as a potential if you are looking for a great bouncer to keep your baby entertained.