Product Name: Take-Along bouncer

Manufacturer: Tiny Love


Price Range: ££
At a glance


The Tiny Love Take-Along bouncer is a clever foldaway travel bouncer that is perfect for use on days out or trips away. An essential piece of baby travel kit.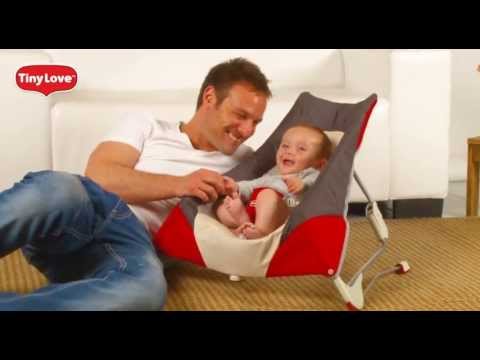 Overview
Tiny love has created what can be deemed an essential bit of travel kit for your baby. This travel bouncer is perfect for holidays, days out, or just a trip to visit the grandparents. Compact enough to foldaway and pop in the pram. This baby bouncer can go wherever your baby goes with no hassle or fuss.
Key Features


The Take-Along bouncer is specifically designed as a travel bouncer. As you would expect it's extremely lightweight (2.1 kg) and portable. It has a very clever collapsible design so the entire bouncer folds down to fit in the handy carry bag that comes with it. The foldaway feature is great and it's as easy as putting up an umbrella to use. When you put up the seat you lock it into place by turning the lock mechanism on the back of the chair.
The fabric seat has mesh side panels to help air circulation and keep baby cool, perfect on a hot day at the beach. As you would expect for travel purposes this basic bouncer is no frills and so there are no play features other than your baby driven bouncing.
The bouncer is available in two different colour schemes red and grey (see top) or green and grey.
Comfort
Since this is a travel bouncer it is not as padded as some of its competitors. However, the  hammock style material seat still appears to keep baby fairly comfortable. The collapsible steel frame has a natural spring so any bouncing motions from the baby will provide a gentle vibrating motion to keep your baby happy.
Safety


The Take-Along bouncer has a three point safety harness to keep your little one secure. Rubber feet stop the chair moving from baby's bouncing.
Ease of Cleaning


For cleaning the seat fabric easily unbuttons from the collapsible frame and can be machine washed on a cold setting. The seat then needs to drip dry.
Ease of Assembly

There is no assembly required since the Take-Along bouncer is ready to use out of the box. It also easily folds down and can be popped into the carry bag for transport or storage.
Age Range and Usage
You can use the Tiny love Take-Along bouncer from birth up to the age of 6 months which is roughly up to a maximum weight of 9 kg or 20 lbs.  Assuming you buy for a newborn baby getting 6 months usage out of this bouncer is pretty much marked at the average usage in months compared to other bouncers on the market. See Baby Bouncer Comparison Table.


Value for Money


In looking at value for money, a great place to start is to consider the price you are paying against how long you will get usage out of the bouncer.

At the time of writing the cost of this bouncer coming in at almost £36 puts it at the lower end of the price range (££ on the comparison table) which is between £20 and £40's. As indicated on the age range you should get at least 6 months usage out of the product and so, simply put, a cost of £35.95 for 6 months gives you a usage cost per month of £5.99 which is a middling usage cost per month score. 
Although the usage cost is mid-range in scoring, you would actually be buying this for its travel abilities which sets this bouncer apart from the rest.
What's great:


Fold up function

Handy Carry Bag
What to watch out for:

Seat fabric can be a little unforgiving for newborn babies
Conclusion


The Tiny Love Take-Along bouncer is neat lightweight and compact. Whilst it isn't designed to be the most comfortable baby bouncer, as a travel bouncer you wouldn't expect it to be. It's reasonably priced and should definitely be considered in the running for best travel bouncer. If you are travelling with your baby or even walking to the park for a picnic, we think the Take-Along bouncer is an essential bit of baby kit that you don't want to leave home without.