Product Name: 
Maclaren Baby Rocker
 Manufacturer: M
aclaren

Price Range: ££££
At a glance
The Maclaren baby rocker is a great product that's packed full of features. It's lightweight, easy to move, has good practical functionality for your baby and looks amazing.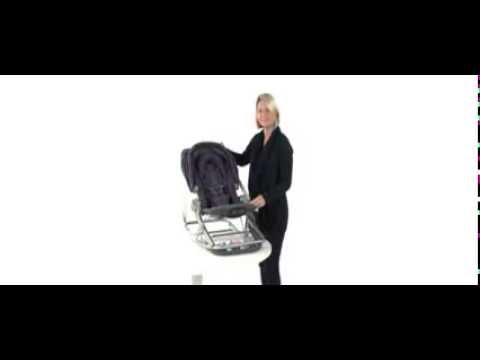 Overview


British design icons Maclaren, famous for inventing the folding pushchair and coining the term 'baby buggy' have a significant reputation when delivering baby products. The Maclaren baby rocker can clearly be seen to have the Maclaren  family pedigree.
Key Features


The Maclaren baby rocker comes in three different colour schemes orchid smoke/silver, medieval blue/penguin and black/champagne. The rocker can helpfully be changed to a fixed seat position, useful for feeding, by flipping down the stabiliser legs. The seat can also be reclined to a suitable angle by opening the side latches.
When you need to get your little one to settle a vibrate function can help soothe them to sleep. A nice touch is the detachable toy bar which features black and grey geometric shapes, a cube, sphere and pyramid. 
The Maclaren rocker is quite versatile and as well as folding down flat is really lightweight (4.3 kg / 9.5 lbs) and comes with carry straps which make it very portable. The fact you can easily travel with this rocker is enhanced by the canopy which is great for shading your little one from the sun when needed or even just making it easier for them to go off to sleep by making the room that little bit dimmer with the canopy.

Comfort


In addition to a very well padded seat the Maclaren also comes with a newborn head-hugger insert for additional comfort for young babies
Safety


Unlike most baby rockers which only come with the standard three point harness the Maclaren baby rocker has a great five point harness to keep your baby securely in place.


Ease of Cleaning


For such a great bouncer it's a bit of a shame that the seat covers are not machine washable. Unfortunately the covers are hand wash only with the canopy hood and toy bar being sponged clean with a mild detergent. All in all not that easy to clean.
Ease of Assembly


The Maclaren is easy to assemble since it comes almost ready to go straight out of the box.  You will need a flat-head screwdriver to open the vibration unit. The vibration unit takes 1 C type battery
Age Range and Usage
You can use the Maclaren baby rocker from birth up to the age of 6 months, which is roughly up to a maximum weight of 9 kg or 20 lbs.  Assuming you buy for a newborn baby, getting 6 months usage out of this rocker is pretty much marked at the average usage in months compared to other rockers on the market. See Best Baby Rocker Comparison Table.


Value for Money


In looking at value for money, a great place to start is to consider the price you are paying against how long you will get usage out of the bouncer.


At the time of writing the cost of this rocker is £100 puts it in the upper end of the price range (££££ on the comparison table) which is between £80 and £120's. As indicated on the age range you should get at least 6 months usage out of the product and so, simply put, a cost of £100 for 6 months gives you a usage cost per month of £16.66 which is a high usage cost per month score. 

However if you consider the quality, comfort of the seat and its play features this bouncer still comes out as a good value for money buy.
What's great:


Designed for portability

Toy bar

Folds flat

Vibrate function

Fixed seat mode

What to watch out for:


Not machine washable




Suede fabric not easy to clean

High price tag
Conclusion


The Maclaren baby rocker is a versatile good looking piece of baby equipment. It's easy to move around, can keep baby entertained and soothe them to sleep when they need it. Whilst it may be slightly on the more expensive side of the market and not the easiest to keep clean, you get a quality rocker for your money.