What is the world's most expensive baby crib?
Just out of interest I thought I would ask the question – What is the world's most expensive baby crib? And I was amazed what I ended up finding out.
After trawling through quite a few high end baby cribs, like Stokke's Sleepi Oval Crib, the Mamas & Papas Oxford cot/toddler bed or White Company's recoil Devon cot bed, I eventually found the ultra luxury end of the market in the shape of the Dodo Bassinet, by Spanish company Suommo.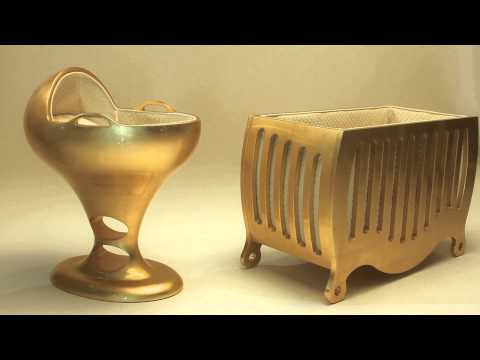 Crib of Golden Dreams
The Dodo Bassinet also called the 'Crib of golden dreams' is the brainchild of Ximo Talamantes, designer and CEO of Suommo.
Unbelievably the 24 Carat solid gold crib weighs a huge 188 kg takes 6 months to build and will set you back a staggering £9,960,000. If you want the gold cot engraved and personalised that costs an extra £72,000. Not something you can pop down to Mothercare for!
As well as the limited edition gold version, Suommo also produce black, white silver and a less expensive 18 Carat gold plate version of the dodo bassinet. 
From a cost perspective the cribs range up to 38,000€ / £33500 not including added extras.
The White edition has a price tag of 12,000€  / £10500 , Silver €14000 /£12300, Black 16000€ / £14120 and the Gold plate edition 38000€ /£33500.
Silk Sheets
The cribs all have a hypoallergenic and antibacterial mattress. The bedding for
the interior comes in a choice of silk or cashmere, with the silk option being wild silk with Pima cotton and gold yarn embroideries. Suommo recommend you buy 2 to 3 sets of each and the sets which include protector, mattress cover, comforter and pillow cost 2,200 € / £1970 for the silk or 3,600 € / £3220 for the Cashmere.
And to Finish…
Best of all you can choose the varnish finish on your cot. Four finish types are available and because there is water involved in the process you can choose which mineral water is used as part of the process Evian, Fiji, Isklar or Voss.
Not quite sure what happened to plain old tap!